t-roll
Pricing:
From: £255
VAT exempt - enter details at checkout
Accessories are available to add to this product below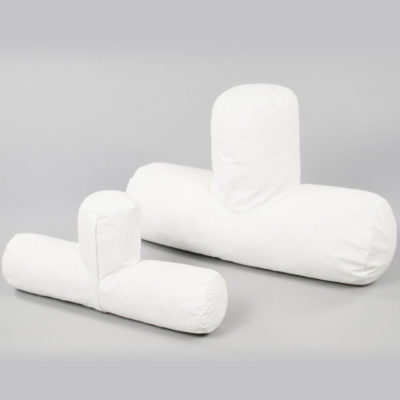 Description
T roll leg support and memory foam cushion. Supports your child's legs in abduction and inhibits adduction.
For clients who find the W Leg Trough unsuitable due to contracture at the knee, T-Rolls are an ideal solution for a presentation of legs that come to mid-line.
Can be used with other components of the sleep system range.
Washable and removable cover.
A thermal regulation cover is also available for this product.
Need a user guide for this product?
Download our PDF...
Size Guide:
| Measurement (mm) | Paediatric | Large |
| --- | --- | --- |
| Diameter of Main Roll | 150 | 250 |
| Diameter of Centre Roll | 150 | 250 |
| Width Either Side of Roll | 225 | 250 |
| Height of Centre Section | 150 | 250 |
Extras / Accessories
Choose from a range of different accessories to tailor purchases to suit individual needs. To view a pop-up of the extra info please hover over the image or simply click the add sign to put the additonal product into your basket...