rocking horse
Pricing:
From: £181
VAT exempt - enter details at checkout
Accessories are available to add to this product below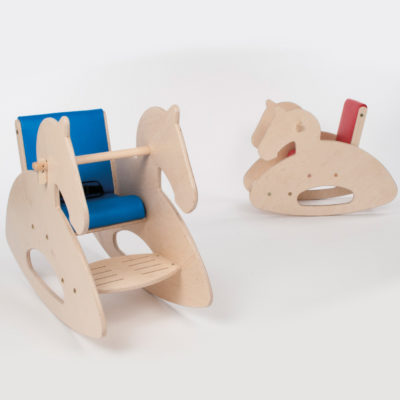 Description
Our Rocking Horse will provide hours of fun for your child. The Rocking horse has been designed for vestibular activation to quiet, stimulate or organise a child's activity level.
The contemporary design of the Rocking Horse coupled with the padded seat and back ensures that this product is both attractive and comfortable. The seat depth is easily adjustable and the back can be reclined.
The Rocking Horse can be purchased in a variety of bright colours and comes with a lap strap.
Need a user guide for this product?
Download our PDF...
NEW 'Just Colour' range
Vinyl (can be used on most products)
Dartex fabric range
(Juni & Zoomi)
NEW 'Moxxa range'
Brushed/soft finish smooth vinyl (can be used on most products including indigo, Samba, Brookfield, Heathfield, Hardrock and Whirl)
Some products have standard colours, if you require a different colour please call customer services to enquire and place your order.
Colours are a guide only and may vary due to limitations of the print process.
Material samples are available on request.
Size Guide:
| Measurement | Size 1 | Size 2 |
| --- | --- | --- |
| Height (mm) | 485 | 610 |
| Length (mm) | 650 | 835 |
| Depth (mm) | 290 | 325 |
| Seat width (mm) | 240 | 280 |
| Max user weight (kg) | 25 | 6 |
| Product weight (kg) | 45 | 7 |
Extras / Accessories
Choose from a range of different accessories to tailor purchases to suit individual needs. To view a pop-up of the extra info please hover over the image or simply click the add sign to put the additonal product into your basket...