personal tilt desk
Pricing:
From: £236
Not VAT exempt - Normal VAT conditions apply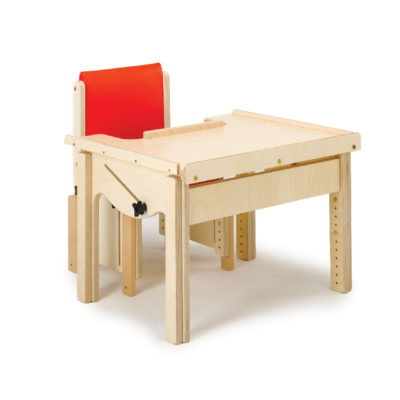 Description
Our range of desks have been designed to fit in to the school and home environment. The contemporary beauty of wood and the quality of the design enables our desks to stand the test of time.
The Personal Tilt Desk is packed with additional features; the tilt functionality can transform the desk and allow your child to work on a variety of activities. The Personal Tilt Desk features a cut out and is highly adjustable, allowing easy access for a variety of chairs, including wheel chairs
Need a user guide for this product?
Download our PDF...
Size Guide:
| Code | Size | Type | Height range (mm) | Depth (mm) | Width (mm) | Cut out (mm) | Max weight (kg) | Product weight (kg) |
| --- | --- | --- | --- | --- | --- | --- | --- | --- |
| 6894 | 1 | static | 465-715 | 600 | 685 | 410 | 80 | 15 |
| 6895 | 1 | mobile | 540-790 | 600 | 685 | 410 | 80 | 15 |
| 6896 | 2 | static | 465-715 | 600 | 805 | 410 | 80 | 16 |
| 6897 | 2 | mobile | 540-790 | 600 | 805 | 410 | 80 | 16 |